Ordino Enterprise
Ordino is a web-based analysis tool for cancer genomics that allows users to flexibly rank, filter, and explore genes, cell lines, and tissue samples.
Features
Data Landscape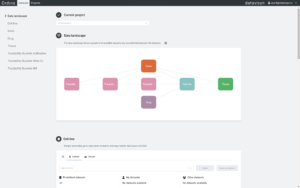 Ordino allows you to connect to manifold data sources just by configuration. Data from all these sources is visualized to your users in an understandable way. They can browse the available data sources without noticing where the data actually comes from.
Ranking and Filtering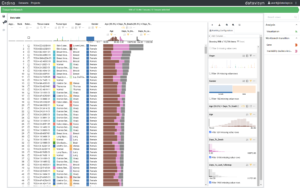 Use the full capacities of LineUp.js to filter, rank, sort, and group your tabular data. LineUp.js is an interactive technique designed to create, visualize and explore rankings of items based on a set of heterogeneous attributes. It combines the convenience of a spreadsheet-like table with the power of in-line data visualization to immediately identify and understand underlying patterns in your data.
Workbenches and Transitions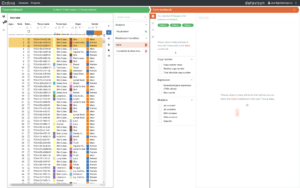 Data sources are no isolated silos. Once you identified our data sets of interest in one data source, you might be interested how these data sets are connected and represented in other data sources. Ordino allows you to jump from one data source to another and understand how your data sets of interest impact other data sources.
Visualization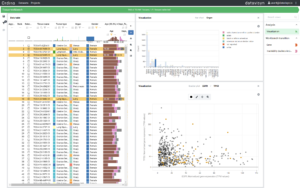 Visualize your data with interactive charts.
Obtain Information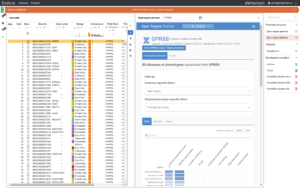 Ordino is able to embed public but also internal web-based sources and directly link them to your data. Your users can easily obtain additional information to their currently selected data without the need to go to their browser open the source and search for the data there manually.
Screenshots
Video
License Models
datavisyn offers licenses for corporate and for non-commercial/academic use. 
Corporate License 
The corporate license follows a subscription model with annual fees. The subscription includes access to all features of the tool, continuous and unlimited updates, and usage support. Multi-year discounts are available.
Seats
Corporate licenses come with packages of "seats". A seat is taken by active regular users. The base package includes 30 seats, the advanced package includes 100 seats. Larger packages are available upon request.
Seats are evaluated holistically, i.e., datavisyn reviews usage, and if the usage consistently exceeds the usage of the package, the customer is asked to upgrade their package. 
Optional services
Datavisyn provides optional support for the deployment, operation, and development of extensions and modifications. We also offer 2-day on-site or remote trainings. These services are based on an hourly rate or on an agreed-upon flat fee. Extensions and modifications require a valid license.  
Three month evaluation period
We understand that our customers want to evaluate our tools not only based on our public demo versions, but also in their own environment with their own data. We specialize in supporting deployment, customized extensions, and kick-off workshops to get you up and running in your environment and with your data. After a three month evaluation period, you are welcome to obtain a corporate license.  
Maintenace
An active license includes the following maintenance efforts:
Provision of periodic release packages for the visyn framework and Ordino Enterprise

Problem analysis, identification, and correction of bugs

SLA availability between 8 AM and 5 PM on Austrian working days

Updates to changes in 3rd party libraries and dependencies

Application support: Answering technical questions about the functionality of the software
Pricing & plans
| | | |
| --- | --- | --- |
| Feature | Professional | Academic |
| Data Connector | x | x |
| Workbenches | x | x |
| Visualizations | x | x |
| Do/Undo Provenance Tracking | x | x |
| Named Sets | x | x |
| Projects | x | x |
| Insight Management | x | x |
| Shared Provenance | x | x |
| Collaboration | x | x |
| Customer Plug In | x | x |
| Price | EUR XX.XXX | Free |
Academic/Non-Commercial License
Academic organizations or non-commercial users can request a free license. We are happy to provide support for the usage, deployment, operation, and custom developments for academic users based on an hourly rate or on an agreed-upon flat fee. If you are interested, please contact help@datavisyn.io with your contact information (full name, institution name, institution email address).